The initial treatment of coccydynia is usually conservative and consists of painkillers and possibly coccygeal injections. However, if the pain continues and all conservative measures have been exhausted, coccygectomy maybe considered as a last resort.
Coccygectomy is the removal coccyx and sacro-coccygeal joint and very few patients with Coccydynia end up having surgery. It is thought that patients who respond to coccygeal injections (but do not get long term relief) have a higher chance of success.
Various case studies have shown about 60-70% of patients have good results (but only on a carefully selected group of patients).
The surgery is performed under general anaesthetic and involves removing part or all of the coccyx.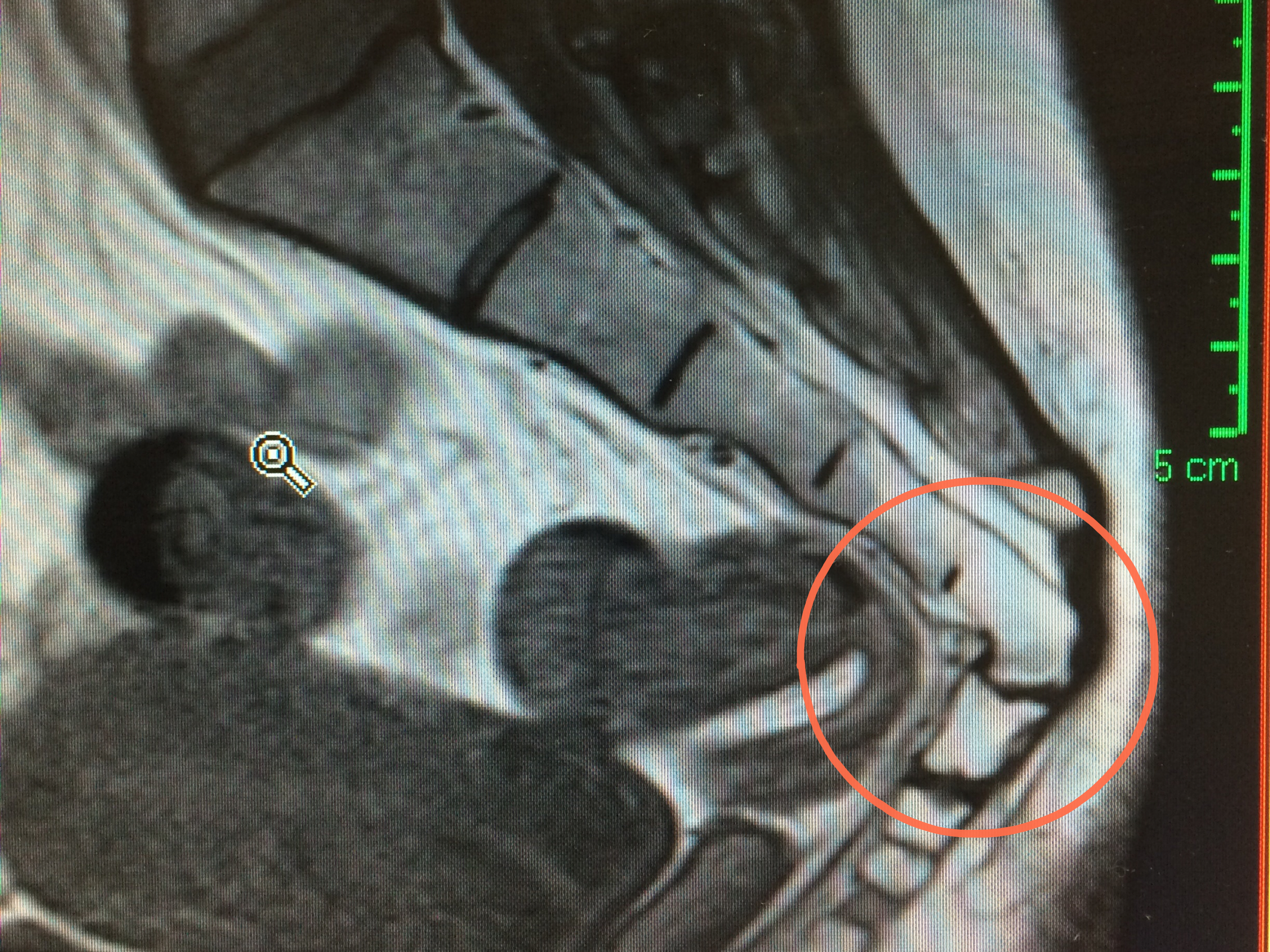 Risks and Complications
The main risks of a coccygectomy are infection and persistent coccygeal pain despite a long healing process.
Other risks and complications are similar to other spinal surgeries, which include:
Bleeding (minor and major vascular damage)
Infection (30% risk due to to proximity of the anus)
Wound dehiscence and delayed wound healing.
DVT/Pulmonary Embolism
Minor and Major Nerve Damage including Cauda Equina Syndrome
Damge to neighbouring structures
Damage to the rectum (part of the bowel) – although this is unlikely, it is possible that if this were to happen, a diverting colostomy bag would be necessary to allow the rectum to heal.
Damage to the anal sphincter muscles which may result in faecal incontinence
Perineural Fibrosis

 (scarring around the nerves)

Failure to relieve/no change in symptoms (up to 40% chance)
Pain over the scar itself
Recurrence of symptoms
Medical Complications including CVA (stroke), MI (heart attack), blindness and death
For more detailed information please see the 'risks and complications' section.
Recovery
Most patients will spend 1 – 2 days in hospital and will go home when comfortable and mobilising well. THere will be a small incision of about 3cm incision (wound) made between your buttocks on one side. As mentioned before, one of the major problems with coccygectomy is the risk of infection and therefore it is important you do not change the dressing yourself. You will also not be able to sit for a few weeks without a coccygeal cushion as you will be putting direct pressure onto the operation site.
You will be seen in the outpatients clinic one week following the operation to check your wound, change the dressing and generally answer any questions you have.
Should you feel you need to have the dressing changed before your one week post-operative appointment, or you have any concerns about your wound or worries, please call the hospital or see your GP.
The recovery from a coccygectomy is often long and take many months up to 18 months.
Please do NOT change the wound dressing yourself.